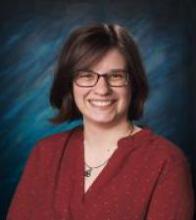 About Me
Educational; Background & Experience
Bachelors of English Education, Colorado State University 2014
Masters of Arts in Counseling and Career Development, Colorado State University 2019
English Teacher, Cheyenne East High School 2014-2019
About Me
Hello Bruins!
I'm excited to begin my second year here at Blevins!
I'll share a little bit about me. I'm from Colorado, specifically from Aurora down in the Denver area. I had a brief stint as a Knight at the University of Central Florida, then promptly moved up to Fort Collins to be a CSU Ram. I've worked in education since 2014, teaching English to high schoolers in Cheyenne then moved into my current role in counseling. Currently at Blevins, my role is to help provide education and intervention surrounding substance use and abuse. I also have 6th graders with Mrs. Mickelson and Mrs. Duran. I love working with middle school kids, and I'm excited to begin this educationally-based program here!
When I'm not at work, you can find me spending time with my fiance and two cats. I love cooking, music, restoring furniture, traveling, and Harry Potter.
Feel free to contact me with any questions!