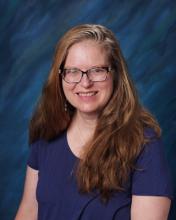 About Me
Educational; Background & Experience
BA from Colorado State in English Education
MA from University of Southern Mississippi in Teaching Languages, with an emphasis in Spanish
Blevins ELA teacher 2000-present
Favorite Part About Teaching
My favorite part about teaching is solving problems with students- each day is like a new puzzle to figure out how to best help kids learn.
Interests & Hobbies Outside of School
Yoga, Tae Kwan do, reading, cooking and gardening.
Courses Currently Teaching at Blevins
Homeroom
ELO- English Language Development
7th and 8th grade Spanish Explorations
English Language Development partnering with teachers
About Me
I partner with teachers at all three grade levels to teach English to students who know other languages and are perfecting their academic language. I work with science, social studies, math and language arts teachers to help ensure that students are able to be successful in their classes. I am bilingual in English and Spanish, although we have students from many countries and with numerous language backgrounds.
I am also returning to teaching Spanish with our Spanish Explorations class, a semester-long elective for 7th and 8th graders. We use the Comprehensible Input approach to learning, with conversations, stories and songs to build Spanish comprehension.