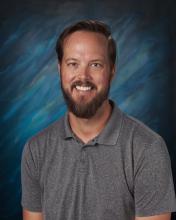 About Me
I've spent the last 20 years teaching Social Studies to middle school students in both Colorado and California and I can honestly say that I love the middle school age group - as crazy as they can sometimes be!
I have been fortunate during my teaching career to have worked with some incredible teachers and administrators who have helped me to develop a love and passion for programming related to student character and fostering a positive school culture. While I will always be a classroom teacher at heart, I am excited to take on this role of Dean so that I can really begin to focus on developing school wide norms and rhythms - for both students and staff! - to help continue to make Blevins a safe and nurturing place for students and their families. It will be a team effort and I look forward to working with each of you soon!
My family and I are so grateful to be moving home to Colorado after spending the last 13 years in Southern California. I was born and raised in Grand Junction where, after graduating from the University of Wyoming, I began my teaching career. I moved to Long Beach, California in 2009 after meeting my future wife, Carrie. We have two beautiful daughters - Abby (5) and Anna (4) - and most of our free time is spent exploring new parks and playgrounds with them. I love to cook, read, bike, and fish - and I cannot wait to get my dad's old Jeep fixed up enough to start exploring Colorado in style once again. If anyone on staff knows how to tune an old carburetor, let me know!!