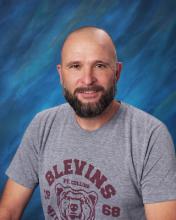 About Me
About Me
Trey Cormia was born in Houston, Texas in 1976 (year of the dragon) and graduated from Canutillo High School in 1994.
In the Spring of 1996, Cormia completed a National Outdoor Leadership semester course in Kenya, Africa, and went on to receive his B.A. in Journalism from Colorado State in the fall of 2001. After time traveling and working mountain safety at Breckenridge Ski Resort, he received his Masters in Educational Leadership at CSU in the summer of 2008. Cormia is in his 11th year teaching at Blevins, in which time he has taught English, Art, Social Studies and coached the football team, and both boys' and girls' basketball.
Cormia enjoys his free time hiking and climbing, raising his 3 year old daughter Annalea, and just generally enjoying the Rocky Mountain region that he calls home.